Camp Tri-Mount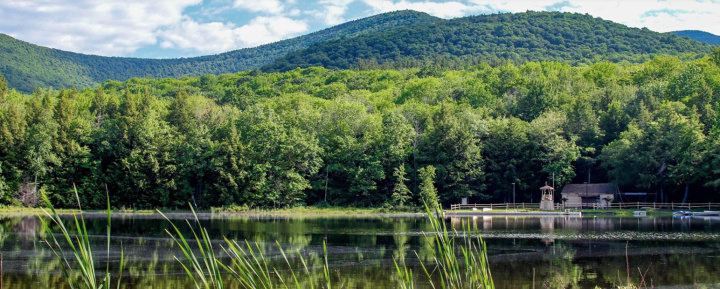 Camp Tri-Mount is a 500+ acre Scout camp nestled in the northern Catskill mountains. Surrounded by mountains and wilderness, the camp is near hundreds of acres of New York state lands, while being only a short drive from major two world class Ski areas and the Hudson river.
Founded in 1946, Tri-Mount has earned a reputation for providing one of the Northeast Region's finest summer camp programs. The camp features miles of hiking trails, a lake that offers paddle-boarding, kayaking, canoeing, rowing, and fishing. Camp Tri-Mount boasts an outstanding shooting sports program with offerings of rifle, shotgun, Pistol, Black Powder and archery, as well as a COPE course and a great ATV program. Tri-Mount offers top-notch programs for first year Scouts, experienced older Scouts, and even training for adult leaders — something for everyone!
Camp Tri-Mount also offers year-round camping opportunities. The reservation has seven cabins/lodges that can accommodate from 10 to 20 persons. There is also an outstanding cabin designed for a family wanting to enjoy the features of the area. These structures are equipped with double bunks and mattresses, propane stoves, and are heated with propane. Water is available from frost-free hydrants. The camp also offers camping in Adirondack shelters, and many other campsite areas for primitive tent camping. Tri-Mount offers weekend programs to supplement your unit's program, with activities such as rifle and archery, first aid, CPR, cooking, orienteering, and other skills. Some units opt to use Tri-Mount as a base camp while exploring off-site program opportunities and find the camp an excellent place to prep for a Philmont Trek.